Hi everyone!!!
Well,I've specially dedicate dis blog to my bestfren-

Kursiah Osman

.For those who think dat this blog gonna be boring..naah..its ur choice.U either read on or u'll stop at once.
Kursiah- I noe for sure dat whatever I've done to u won't b able to reciprocate whatever u've done for me.Like i said b4,U're always there while me??Have I been a best fren of urs?If I didn't,i promised i'll make it up to u..insyaAllah...
U've struggle a lot these while,is it wrong for me & my family,once in a while to pamper u?U understand me & my family real well & I'm glad,real glad dat we r together till now-after 18 years together.Gosh,just imagine dat-we were together for dat long since Primary sch till the time both of us are werking.The fights,squabbles,tears,laughters..u name it,we have experienced dat

together

.
N y am i telling u pple all thses coz..dis best fren of mine is very afraid dat she'll hurt me.Girl,remember dis: I'm a very direct person when I'm wif u,so if I'm angry or upset wif u I'll tell u off staright on the face.Once done everything shld b ok rite?
**

hugging u tightly

**
N the relationships that both of us had went thru-it reali taught us a lot of things ey?We are not young anymore dear..life has to go on.We have to open up ourselves to..men.Give it a shot n if it works out,it will work out n if it doesn't,it will not.Simple yah.But,its not as simple as ABC.All of us have our expectations.We have been hurt & have hurt others so dis time round we'll b more 'careful' yah.We'll be there for each other,to advise n to motivate.
Again..to my bestfren-

KURSIAH

,i love u & nothing can change dat.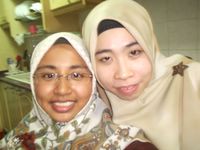 Always Together